In cities such as Kolkata (Calcutta), India, many women live in the slums.  Finding a job is difficult, if not impossible, with their background and limited education.
WorldCrafts partners with 3 artisan groups in Kolkata, India, who transform soft, cotton, recycled saris into beautiful notebooks, blankets, and scarves. The pieces feature the traditional running pick-stitched (kantha) quilting that holds together the layers of saris.
Each piece is unique and is made by a unique woman with a unique story. As it goes from her hands to yours, you help a woman earn some money of her own and contribute to her confidence and well-being.
Kantha Notebook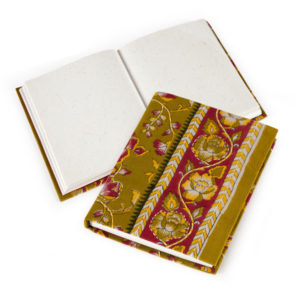 Use the Kantha Notebook  as a way to write prayers or keep up with daily tasks. Handmade by female artisans employed by Love Calcutta Arts in Kolkata, India, who are escaping the poisonous tentacles of the sex industry.
Each notebook is filled with handmade paper made from cotton rags and recycled woolen blankets, meaning no wood fiber was used. A completely eco-friendly product.  Sari patterns and colors vary.
Freedom Throw
Snuggle up in style. Each Freedom Throw is handmade by the women of ConneXions in Kolkata, India, who are able to earn a fair wage with dignity. Measures 34-by-77 inches. Sari patterns and colors vary.
Sari Scarf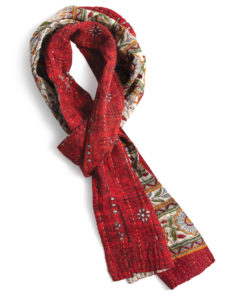 Each Sari Scarf is stylish and reversible. Handmade by the ConneXions artisan group of India, where impoverished young women find dignity and purpose. Each scarf measures approximately 68-by-7 inches. Sari patterns and colors vary.
Calcutta Sari Throw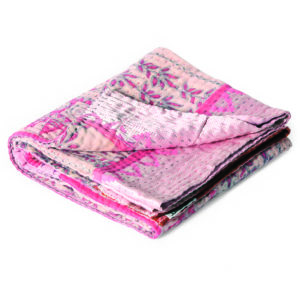 Indian women working with WorldCrafts artisan group Shelano turn their beloved and intricately designed saris into the Calcutta Sari Throw. Purchasing this throw enables women in the villages of India to provide sustainable income for their families. Approximately 42-by-42 inches. Sari patterns and colors vary.
If you are giving one of these pieces as a gift, be sure to download one of our free cards to go along with your gifts!
Thank you for your support of these Indian women artisans.