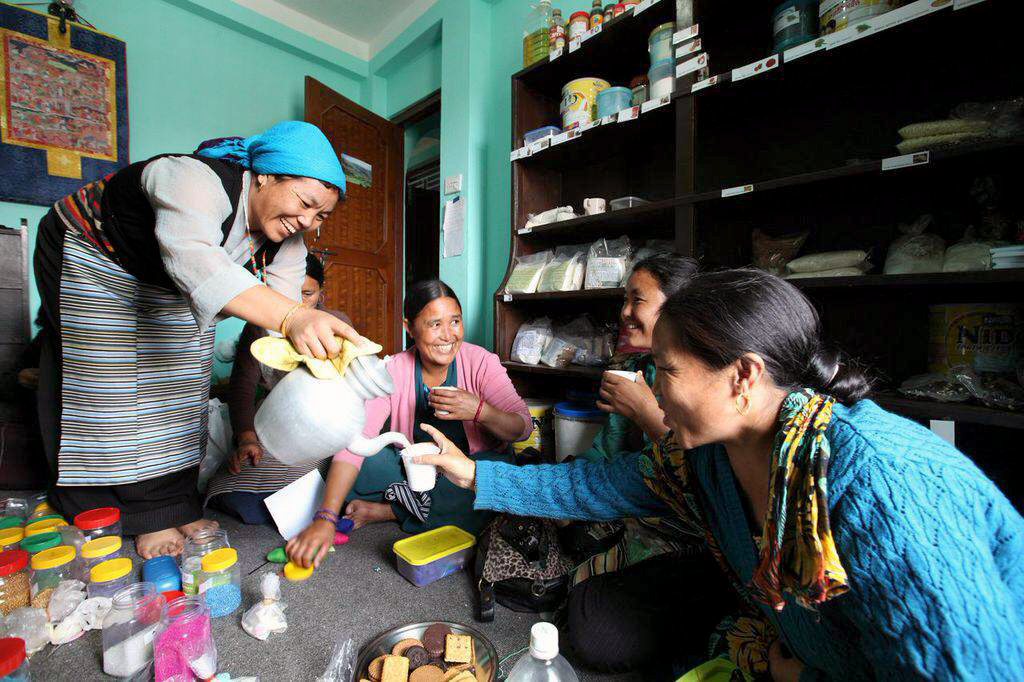 Blessed Hope in Nepal provides creative work, skills development training, and true lasting hope to 23 women artisans and their families throughout the Himalayan Mountains of Nepal. Through their partnership with WorldCrafts, the women artisans are paid salaries that make them able to purchase basic necessities for their families such as their children's school fees, diapers, electricity, and propane gas to cook with and heat their homes.
The Impact of Blessed Hope
Many of the Blessed Hope artisans are uneducated women from remote village areas who have moved to the city for their husbands' jobs or schooling needs for their children. Blessed Hope provides these women a creative job they can do mostly from home (enabling them to care well for their families), pays above trade wages, and surrounds them with a group of people who care for them and desire to see them be successful in life and work.
Yangzee has been an artisan with Blessed Hope for about 2 years.  Her job provided the first opportunity for her to make her own money. She believed she would never have a job, because she doesn't have an education. Yangzee desperately wanted to help support her family and her daughter's education. One of the local female owners of Blessed Hope reached out to her and asked if she was interested and willing to learn how to make jewelry. She said yes immediately and worked very hard to learn the skill of bead crocheting. Yangzee is an excellent worker who takes pride in her work and is very thankful for her job. The first time she was paid, she just looked at the money in her hands and was overwhelmed. As a 45-year-old woman, it was the first money she had ever earned herself. It gave her such a feeling of thankfulness and accomplishment. She uses the money she makes from her job to pay for her daughter's education and the basic needs of their household. She has found more than a job though at Blessed Hope. She has found a community of women who love each other, support each other, and have fun together. She has found a family!
WorldCrafts orders give Blessed Hope artisans like Yangzee ongoing work and enable Blessed Hope to continue to invest in the lives of the artisans in holistic ways.
Support Blessed Hope Artisans
You can directly support the Blessed Hope artisans and their families by purchasing their new bracelets.
Nepalese Bracelet Stack
Wear the handmade Nepalese Bracelet Stack for a unique fashion statement that matches every outfit!
Proceeds from one set of bracelets is enough to provide 2–3 days' worth of vegetables for a family or provide all necessary school supplies for one child for a month.
Your commitment to purchasing fair trade enables WorldCrafts to continue supporting groups like Blessed Hope. We are eternally grateful for your partnership in bringing hope to our artisans throughout the world.