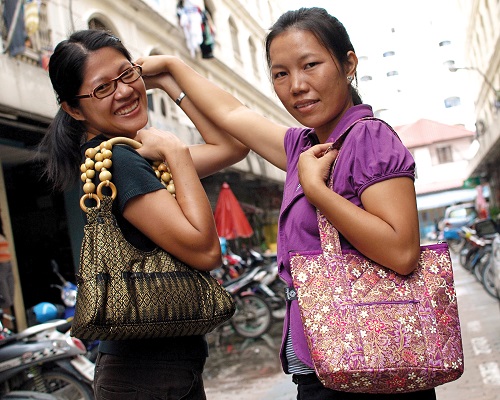 Families in Thailand experience vast disparities in income. Large cities like Bangkok are renowned for their economic growth, while rural areas remain overwhelmed with high levels of poverty. In the hope of providing better lives for their children, many rural families leave their homes and relocate in urban centers. However, due to a lack of education and weak social safety nets, these families often find themselves in worse poverty, living in slums and unable to provide for even the most basic needs.
Out of love for those living in this unspeakable poverty, in 2007, two young Thai women, Kieow and Pawn began visiting the women of a Bangkok slum. Every week, they brought crochet patterns, yarn, and needles, and taught the women how to crochet items to sell. The sale of these crocheted products would help the women bring in much-needed income for their families.
Napada teaches women patterns for living lives filled with joy and faith and hope. Your support of Napada through WorldCrafts helps us bring these artisans new opportunities for victorious lives.
Over needles and yarn and the relaxing rhythm of crochet, these women formed strong emotional and spiritual bonds. The women began to feel comfortable sharing about the difficulties of raising families in the conditions of the slums. They shared about their marriages and their lives, opening the door for Kieow and Pawn to offer wise counsel and prayers for their needs.
As the women in the slum became more proficient in their handwork skills, Pawn developed the idea to craft handbags. She invited all of the women who were involved with crocheting to learn make the bags. To make the very first handbags, Pawn and Kieow chose the fabric and cut out the pieces for the handbags and borrowed a sewing machine from a friend. Kieow invited a friend who is a tailor to teach the women how to make bags that were high quality craftsmanship.
In 2008, Kieow brought 30 bags to the United States to sell. Every purse sold, and when Kieow returned to Thailand, she and Pawn bought sewing machines and Napada was born. The young women began this business with the specific purpose of helping single mothers with children. In Thailand, mothers frequently find themselves raising children alone, as it is a common practice for men to leave one wife to begin a family with a second wife. After being abandoned, the first wife is forced to raise her children without the benefit of a steady income.
Napada seeks to equip and empower women with the necessary skills for self-sustenance. This artisan group is unique in that the leaders of the group work intentionally to determine each woman's special skills and gifts in making the products. They work through the steps needed to craft each piece and try to help each woman plug into the process using her strengths. As they work together, the lead tailor teaches them to focus on quality. She asks questions like, "How do you see this piece at each stage?" or "How do you envision this piece when it is finished?" She uses questions to keep the artisans focused on how they want the end product to look.
Over the years, many workers have come through the doors of Napada. For most of these women, Napada's role has been training them how to sew and create quality handcrafts so they can move forward with their lives. Each woman who comes into the group is treated with grace and respect and love. The leaders model how to handle the trials and difficulties of life. Like the tailor creating the handbag, the leaders of the Napada artisan group focus the ways women will be shaped and fashioned during their time with the group. They teach the women patterns for living lives of joy and faith and hope.
When you purchase Napada's Bangkok Brown Purse and Plentiful Pocket Purse, you are helping women like Wi and Pi Pong provide housing and support for their children and grandchildren. You are helping single women educate their children, which will lead to better lives for generations. Your support of the Napada women through WorldCrafts helps us bring these artisans the new opportunity for victorious lives.