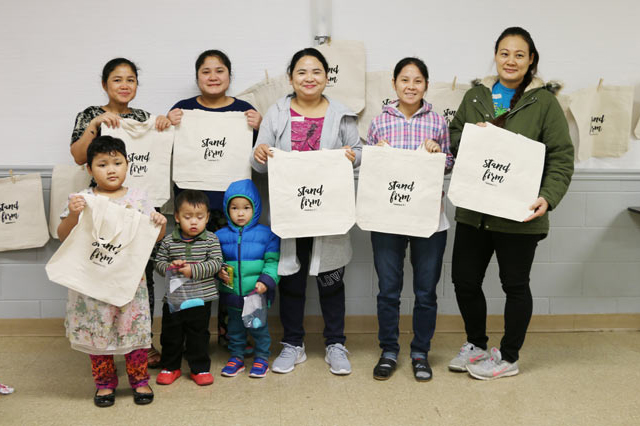 WorldCrafts has partnered with two artisan groups who can create special handcrafted custom orders for you!
If you are hosting an event or get-together, or if you would like a product for your small group or business, consider placing an order for a custom product.
Begin Anew Refugee Artisan Group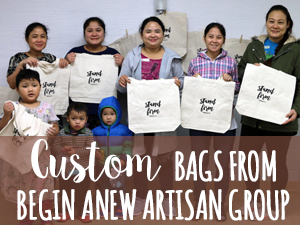 Begin Anew of Middle Tennessee is a ministry dedicated to helping people overcome the obstacles created by poverty.
At Begin Anew in south Nashville, a group of refugee women are taking English as a second language classes, receiving mentoring, and studying the Bible together as they rebuild their lives in the United States.
Through their partnership with WorldCrafts, the women of Begin Anew Refugee Artisan Group are developing hope for their families' futures as they earn a sustainable living wage by hand screen-printing tote bags.
If you are having an event and would like to place a custom order with the artisans of Begin Anew, they can craft a perfect gift for your guests.
Christian Women's Job Corps of Monroe, Louisiana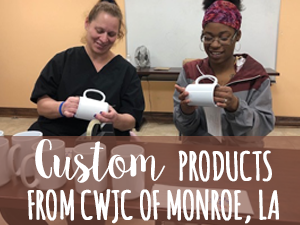 CWJC of Monroe, Louisiana provides encouragement, love, spiritual training, and other tools for a better life to women in their community.
As a WorldCrafts artisan group, the women are learning to create beautiful crafts along with the promise of providing economically for their families in a safe and loving environment. Through its partnership with WorldCrafts, the women see the promises of their Father come to life – they now have a future and a hope as they are able to provide for the basic needs of their families. One artisan says that this work has given her a sense of self-worth and the knowledge that "with God's help, I can do things I never dreamed I could do."
The artisans of CWJC of Monroe, Louisiana offer custom products to meet your needs.
You can order customized items such as messenger bags, business card holders, lapel pins, luggage tags, pendant necklaces, and more with your logo, or you can request a custom design.
Your orders bring life and hope to these artisans.