THIS PREORDER OPPORTUNITY HAS ENDED.
You have a special opportunity to preorder four new WorldCrafts products that support artisans and their families in India, Thailand, and the United States who are rebuilding their lives after the pandemic.
Visit our special preorder page for more details and to place your preorder today!
Krystal Bracelet
When you wear the one-of-a-kind Krystal Bracelet, you are sharing hope, love, and courage. Handcrafted by a survivor of human trafficking now being restored at The WellHouse just outside Birmingham, Alabama, and made from natural-toned agate stones, this bracelet features the stamped WellHouse logo. Each stone is unique. Measures 7.5 inches long. Packaged in a WorldCrafts cloth bag.
Cross Journal—Navy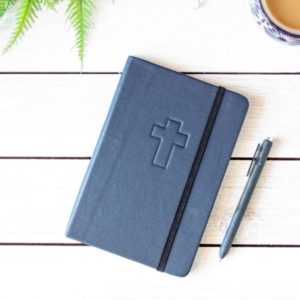 In a dark navy, this journal of handmade paper is embossed with a cross and is the ideal size to carry on the go. Perfect for writers, notetakers, and list makers, each journal is handmade by artisans of Love Calcutta Arts, located in the red-light district in India. Love Calcutta Arts strives to give women an escape from a life of exploitation. Measures 5.5-by-0.5-by 8.25 inches.
Thai Tea Towel
This beautiful and one-of-a-kind towel is perfect for your kitchen or as a gift! Each towel features unique Thai fabric that forms a cross. The towels are handmade by the women artisans of Thai Country Trim in Thailand, who are able to earn a fair wage with dignity. Towel measures 18-by-24 inches. Includes loop on back for hanging. Cross fabric colors vary.
Little Birdie Magnet
This beautiful bird magnet is uniquely handmade by artisans employed at Baptist Friendship House in New Orleans, Louisiana. Baptist Friendship House works to meet physical, emotional, and spiritual needs of the homeless, human trafficking survivors, and those living in poverty. Use the included magnet to hang it on a magnet board or fridge. The back features the initials of the woman who made your bird, a beautiful reminder of the true freedom we experience in Him. Measures 3-by-2 inches. Packaged in a WorldCrafts cloth bag.
Thank you for your support of WorldCrafts artisans!