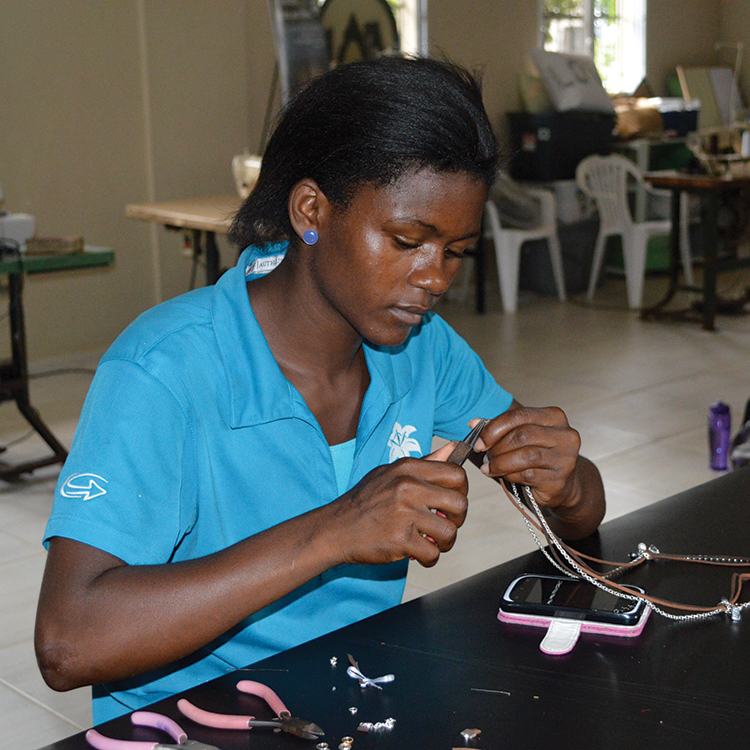 The Lily House is a safe haven, child day care, and business training center for women in the Dominic Republic who have been rescued from sex trafficking or are at risk of being trafficked. Women at The Lily House learn to make jewelry by hand in order to make a new living with dignity and provide for themselves and their children.
"With the help of The Lily House and other partners, such as WorldCrafts, our ladies are able to move out, live independently, go to school, continue education, and make improvements in their homes," said a staff member from The Lily House staff.
At The Lily House, artisans share their newfound hope through their handmade leather and bead Hope Bracelets.
A Lily House staff member added, "The Lily House allows our women to be participants in the community: making money with decency as mothers and neighbors."
One artisan and mother shared, "The partnership [with WorldCrafts] has helped provide the salary I need to be able to provide for my kids, live independently from The Lily House, an education for my kids, and continue education for myself."
The Lily House not only provides a living wage but also therapy, community, and love. The artisans, or Lilies as they're referred to there, are treated with dignity and respect and ultimately discover they are as beautiful as the jewelry they create.
In impoverished areas with high domestic abuse and illiteracy rates, Dominican women are often left vulnerable to traffickers. The Lily House provides a way out. The Lilies repeat an important motto once freed, "I am free. No one will sell me again."
Reflecting the hope of the women who create them, each bracelet is handcrafted of beads and leather cords.
Thank you for your support of these WorldCrafts artisans.