Thai Country Trim, WorldCrafts' oldest and largest artisan group, employs artisans throughout the country of Thailand. Through its partnership with WorldCrafts' Support Freedom campaign, women are rescued out of human slavery and restored to new life.
Thai Country Trim's Impact
By working with Thai Country Trim, women can provide for their families and educate their children. Most importantly, every week each woman involved with Thai Country Trim hears words of eternal hope.
Women like Jum say that while they appreciate earning a fair wage, the most important thing they receive is the knowledge that their Father loves them. Jum says that their morning studies help her stay close to Father, and she joyfully shares, "I know that I am working for [my Father] every day!"
Thai Country Trim's Products
The hand-sewn crafts of Thai Country Trim are unique to this region, crafted of traditional Thai patterned fabrics. Each product represents a life transformed.
Crafted in an elephant-print fabric, the Thai Elephant collection is perfect for the traveler in your life.
The Thai Backpack  features quilted black fabric on the exterior with elephant print fabric on the interior.
The Thai Elephant ID Case includes a plastic window pocket, black zipper, a handle and a silver-tone latch clasp.
The Thai Elephant Luggage Tag will help you keep track of your bags.
The Thai Elephant Wallet features 4 separate sections, a pocket on each end, 1 zippered pocket in the middle, and 6 card slots.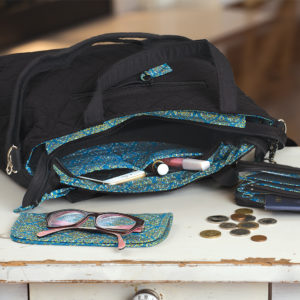 Each piece in the Majestic Thai collection is hand-sewn with a one-of-a-kind, blue and gold Thai patterned fabric.
The Majestic Thai Purse features 4 inside pockets, a zipper closure, and an outside zippered pocket. The purse includes two 6.5-inch handles and a removable, adjustable strap that measures up to 55 inches.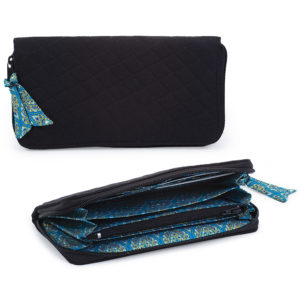 The Majestic Thai Wallet features 4 separate sections, a pocket on each end, 1 zippered pocket in the middle, and 6 card slots.
Protect your glasses in style with the Majestic Thai Eyeglasses Case.
A great piece for travel or everyday use, this sturdy Thai Makeup Bag will hold all of your toiletry items.
The Thai Lunch Tote—Purple is ideal for carrying lunch to work or school.
Your commitment to purchasing fair trade enables WorldCrafts to continue supporting groups like Thai Country Trim. We are eternally grateful for your partnership in bringing hope to our artisans throughout the world.