One morning, an old man was walking along the beach when he came upon a boy. The boy was surrounded by thousands and thousands of starfish and he was picking them up one by one and throwing them back into the ocean.
Puzzled, the older man looked at the young boy and asked, "Little boy, what are you doing?"
The young boy quickly responded, "I'm trying to save these starfish, sir."
The old man chuckled and said, "Son, there are thousands of starfish and only one of you. What difference can you make?"
Holding a starfish in his hand, the boy turned to the man and, gently tossing the starfish into the water, said, "It will make a difference to that one!"
About Starfish Project
It is this parable of the starfish that inspired the name of the Starfish Project. This fair-trade organization restores hope to exploited women in Asia by helping them experience freedom, establish independence, and develop careers.
Starfish Project provides opportunities through their Holistic Care Programs and their social enterprise. These women and their children are provided with healthcare, shelter, counseling, and education grants. They also learn not only to create beautiful jewelry, but also how to become managers, accountants, graphic designers, and photographers.
Starfish Project's Jewelry
The artisans of Starfish Project depend on people like you to support them. When you purchase their fair-trade products, you help them continue to live lives filled with hope and security.
The women of Starfish Project specialize in handmade jewelry, so each piece is crafted by the hands of those you seek to support!
The Lily Collection
The Lily Bracelet and Lily Necklace are perfect for the upcoming spring and summer months! They add a pop of color to any outfit and are great statement pieces.
Miao Silver Bracelet
The Miao Silver Bracelet is handcrafted of Miao silver. Each bracelet provides one week of room and board at a Starfish Project shelter throughout Asia.
Ashlyn Necklace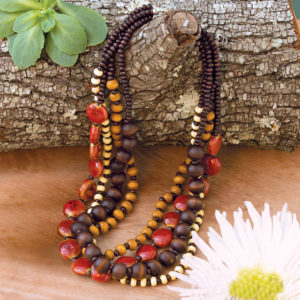 Layered with 4 strands of beads in brown, tan, and deep red tones, the Ashlyn Necklace makes a great addition to any wardrobe!
Starfish Project's Impact
Starfish Project has employed over 130 women and has served thousands through their community outreach services. When you purchase their fair-trade products, you help them as they continue to serve women and share with them words of eternal hope.
by Kendall Christian, Communications Intern, National WMU