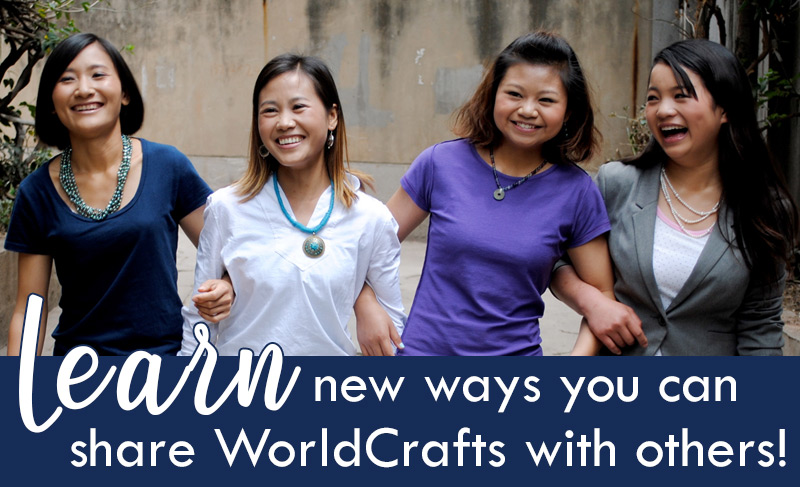 WorldCrafts exists to offer an income with dignity and the hope of everlasting life to every person on earth. When we share the WorldCrafts story, our reach is expanded. As our reach is expanded, more impoverished people are given hope for the future.
You are invaluable to our work as we continue developing sustainable, fair-trade businesses among impoverished people throughout the world. We have free materials you can use to share WorldCrafts with your family, friends, and community!
Here's a list of some of our resources:
Free Resources
Free Materials for Events
Set Up a WorldCrafts Display – When your church, association, or community has an event, consider setting up a WorldCrafts display. With a WorldCrafts display, you can help us tell the story of WorldCrafts and how we are changing the lives of families and communities around the world.
Create a WorldCrafts Market – Creating a WorldCrafts market is a great way to give your community the opportunity to touch and see the quality of WorldCrafts products and to experience the joy of directly impacting the lives of artisans around the world. We provide all the support materials you will need for creating a WorldCrafts market.
Benefits
WorldCrafts is partnering with organizations that serve at-risk children and families, and provide job readiness training for men and women in need. Through our benefit initiative, you can host a one-month benefit. At the end of the month, 20% of your proceeds are donated directly to your chosen beneficiary. Currently, you can host benefits for
Custom Products
WorldCrafts offers custom products handmade by artisans employed at Begin Anew Refugee Artisan Group and CWJC of Monroe, Louisiana. These artisans can customize products such as