WorldCrafts is so excited to add 3 new products to our lineup of hand-sewn products from Graffiti 2 Works! You are going to love the way these new accessories help you add a little more organization to your life.
Your Purchases Change Lives.
When you purchase products hand made by the seamstresses of Graffiti 2 Works, you are helping women like Emily. Emily came to Graffiti 2 when her youngest son, Alex, attended Graffiti 2's sports camps and wanted to visit their church. After visiting Graffiti 2, they couldn't wait to return. Through the care and compassion of Graffiti 2, both Emily and Alex came to understand and accept the Father's offer of eternal hope.
Emily's partnership with Graffiti 2 Works was another work of the Father. She needed a job, and they had a space for another seamstress. Initially quiet and reserved, Emily has developed self-confidence and has become a rock for her co-workers. She loves sharing her faith and discussing what she is learning in the Word. A natural encourager, Emily invites others to join her at Graffiti 2 for group meetings and other events. Kerri Johnson, Director of Graffiti 2 Works, says that WorldCrafts and the money she earns at Graffiti 2 Works helps Emily's family greatly, but the Father is also helping her in bigger ways as she is learning how He has gifted her to be a leader.
Here Are Graffiti 2 Works' New Products!
Through your purchases, you get a great deal on beautiful, handcrafted products AND you partner with Graffiti 2 Works in empowering women to become leaders in their community.
Everyday Essentials Bag
The Everyday Essentials Bag contains interior elastic loops which make it a perfect accessory for storing essential oils, medication, and other daily essentials.
Cord Keeper – Navy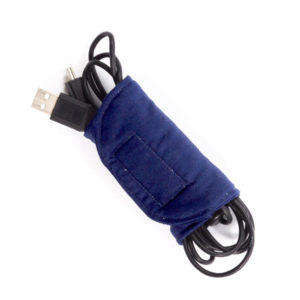 The Cord Keeper – Navy is adjustable for large and small cords and will keep your cords neat and untangled.
Pocket Keychain – Navy
The Pocket Keychain – Navy will help you keep USB drives, lip gloss, oil roller bottles, and other small items handy.
And, Even More by Graffiti 2 Works –
You'll also love these classic favorites made by the artisans of Graffiti 2 Works:
Celebration Table Runner
With the reversible Celebration Table Runner, you can style your table beautifully for every season and event.
Gingham Oven Mitt
Use this Gingham Oven Mitt to bring great design and functionality to your kitchen!
Thank you for loving our artisans and helping them develop the gifts our Father has given them!