Mother Care Handcrafts helps more than 100 disadvantaged artisans in Kenya earn a fair wage by using their skills in the centuries-old handcrafting traditions. Among the artisans are several women who have been rescued from prostitution, thanks to the jobs Mother Care offers.
The profit from the crafts provides the artisans and their family's with education, medication, shelter, clean water, food, and clothing. Through this wholesome, creative skill, these artisans receive basic material needs, as well as spiritual blessings and growth.
WMU Compassion Ministry Pure Water, Pure Love has also partnered with Mother Care Handcrafts to provide clean water filters for the artisans and their families.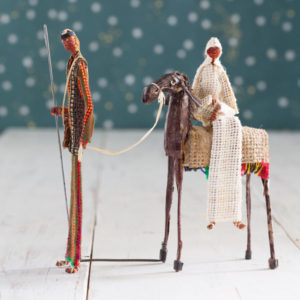 Each Pilgrimage to Egypt is handcrafted from banana fibers, burlap, and distinctive African fabric by artisans employed by Mother Care Handcrafts.
Thank you for your support of WorldCrafts artisans!