More Than Sparrows, a registered co-operative in Kigali, Rwanda, is featured on the cover of the WorldCrafts 2019-20 Hope Catalog!
More Than Sparrows creates beautiful products from traditional African fabrics:
African Pennant Banner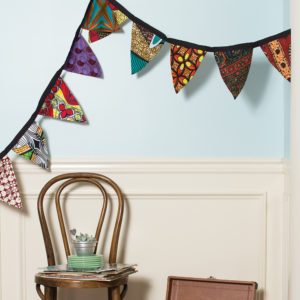 This pennant banner is a perfect decoration to add a little color to your party. Each one is handcrafted from a variety of fabrics, so no two banners are the same! The African Pennant Banner measures 138 inches long
Rwandan Cross Towels
Sure to match any kitchen décor, every Rwandan Cross Towel features a myriad of colors from African cloth. A variety of patterns are sewn together to create the cross which is appliqued on the towel. The towels measure 19-by-27.5 inches and include a loop on back for convenient hanging.
Who is More Than Sparrows?
More Than Sparrows is comprised of 30 women ranging in age from their 20's to 50's. Each artisan is self-employed through this fair trade enterprise, and the collective provides advisers who assist each artisan in managing her own affairs.
By supporting More Than Sparrows, you bring hope and joy to each of these 30 women who had previously been accustomed to lives where each day was a struggle for survival. The artisans come from broken lives where they were once stripped of their dignity. Now they experience lives of promise because they know that their craftsmanship is valued by others.
The More Than Sparrows artisans draw their inspiration from Matthew 10:31, which says, "Fear not, therefore, you are of more value than many sparrows." These words help them understand their priceless personal value in addition to taking immense pride in their work. They can support, love, and listen to each other as they stand up and say, "We are more than sparrows."
These artisans are so much more than sparrows. You can help them continue to know their worth by purchasing their products and by joining us to pray for their continued hope and joy.
About the WorldCrafts 2019-20 Hope Catalog
In our newest catalog, you will be inspired and touched as you view the work of More Than Sparrows and all of our other fair trade partners. To browse the e-catalog or to request a print copy, visit us at WorldCrafts.org/catalog.