In a small southern India town, Bidar, the community still practices an ancient handicraft dating back to the 14th century: bidriware. "Bidriware is made from a mix of zinc and copper inlaid with thin sheets of silver," a representative with Bidri Ware, a new WorldCrafts artisan group, says. For many in India, a better future begins with a sustainable income—and that's the focus of Bidri Ware.
Bidri Ware aids in building a better future for those in India through identifying skill sets, stimulating production, generating employment opportunities, improving efficiency, encouraging sustainable development, and promoting social welfare. "Because we work to create a better future for these individuals, we are able to provide hope to marginalized communities through better working conditions, sustainable incomes, and future employment opportunities for their families," the representative says.
In a world of factory-manufactured goods, traditional handicraft artisans—like those creating bidriware—often suffer. The construction of bidriware involves a detailed, eight-step process requiring molding, smoothening, chiseling, engraving, silver inlaying, smoothening (again), buffing, and finally oxidizing. "The artisans are excited to know that their dying art form has a potential future in the form of new designs in a new market," says the representative. Bidri Ware's new partnership with WorldCrafts is bringing dignity to the lives of artisans by way of fair pricing, better working conditions, and fair terms of trade.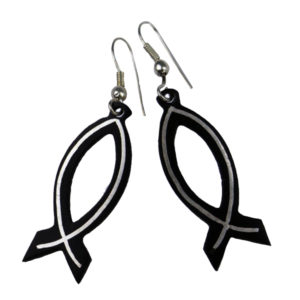 The unique Ichthus Earrings are handmade of zinc and copper alloy with silver inlay and a hypoallergenic hook.
Thank you for loving our artisans and helping them develop the gifts our Father has given them!