In the US, the National Day of Human Trafficking Awareness is observed on January 11.
Human trafficking is the fastest growing criminal enterprise in the world. Poverty, war, gender inequality, and lack of opportunity breed desperation. Human traffickers manipulate desperate people with the promise of beautiful lives, quality educations and equitable salaries. Each year, millions of people are lured into this trap.
WorldCrafts' Support Freedom Campaign was developed to increase human trafficking awareness and to support those who are combatting human trafficking. All of our Support Freedom artisan groups work holistically, offering hope for restoration and redemption. As trafficking victims receive counseling and vocational training undergirded by compassion, they learn to love and trust again, they learn to experience joy – sometimes for the first time in their lives.
You can help us support these artisans by purchasing their handcrafted products:
Indian Mosaic Frames
The Indian Mosaic Frames are created by the women of Rahab's Rope in India. The women here are rescued out of sex trafficking and given food, shelter, protection, and vocational training. As the women's physical, spiritual, and educational needs are met, they are prepared to reintegrate into society as contributing members. The Indian Mosaic Frames come in two sizes.  The large frame measures 8-by-10 and fits a 5-by-7 photo. The small frame measures 7-by-9 and fits a 4-by-6 photo.
Thai Elephant Collection
As the women of Thai Country Trim create the pieces of the Thai Elephant Collection, they also find safe haven from their abusers. Thai Country Trim is committed to the holistic support of these women and their families. The artisan partner has multiple centers around Thailand, offering fair-trade employment and the hope of eternal life to hundreds of workers from multiple ethnic groups. The Thai Elephant Collection consists of the Thai Elephant ID Case, the Thai Elephant Luggage Tag, and the Thai Elephant Wallet. Each piece is sold separately.
Betty Bag
Another offering from Thai Country Trim, the Betty Bag is made of black quilted fabric and lined with one-of-a-kind white and black Thai fabric. The Betty Bag is named for the American woman who founded Thai Country Trim in the 1980s.
Speak Up Jewelry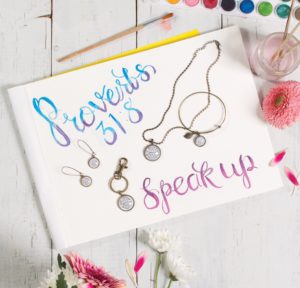 The Speak Up Jewelry collection is a beautiful reminder to speak up for those who cannot speak for themselves. Each piece is hand lettered and crafted by the artisans of Eden Ministries in Asia. The mission of this artisan group is "to restore freedom for the captives of Asia's red-light districts through holistic programs – transforming mind, body, and spirit. They empower victims by providing counseling, skill training, and the opportunity for a new career. The Speak Up collection is made up of the Speak Up Bracelet, the Speak Up Necklace, Speak Up Earrings, and a Speak Up Keychain.  Each piece is sold separately.
Yatta Collection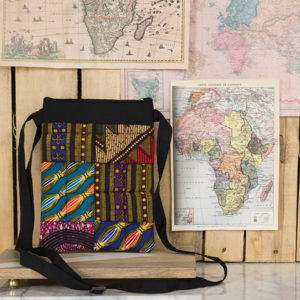 The Yatta Necklace and Yatta Purse are handcrafted by the artisans of Mully Children's Family. The artisans who create the purse and necklace are all young women who've been broken by exploitation. Each woman who comes to the center is shown love and compassion. As they learn what it means to be loved by a family, they also receive emotional and spiritual counseling, wellness interventions, and job-skills training.
Refuge Necklace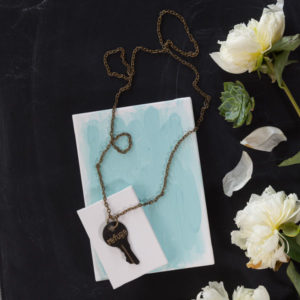 Each Refuge Necklace purchased helps former sex trafficking victims find freedom at Sak Saum in Cambodia. Sak Saum is committed to breaking the cycle of exploitation within families. Sak Saum not only cares for young women who've been exploited, they also provide free childcare at their Vocational Training Center campus. Knowing that their children are safe frees these women to develop new skills so that they can earn a living wage while employed in a dignified job.
Thank you!
Your purchases of fair-trade products enable our artisan groups to continue courageously working to provide opportunities to restore justice and dignity to those who have been exploited.
Thank you for helping us follow our Father's mandate to "Provide justice for the needy and the fatherless; uphold the rights of the oppressed and the destitute. Rescue the poor and needy; save them from the power of the wicked!" (Psalm 82:3-4 HCSB)