Years ago, a representative with our new artisan group Hill Top Crafts visited Thailand. While there, she met a group of ladies making traditional Hmong crafts. Their group was named Hill Top.
"I visited the location in Thailand where these women worked," she says. "I thought they were going to be creating typical Hmong crafts, but they decided they wanted to do something unique for WorldCrafts: purses. They learned to sew purses."
The representative's journey of getting involved with WorldCrafts was a process. Many years before, she was invited to a national meeting. "It was at that meeting that I learned about WorldCrafts. The dream of beginning an artisan group went from my head to my heart," she says.
After years of waiting, she decided it was time to participate with WorldCrafts. "I connected with a Hmong person in Thailand that had visited us in America," she says. "I shared my vision of starting WorldCrafts with the Hmong."
In 2019, Hill Top Crafts received a grant from WMU's Compassion Ministry Pure Water, Pure Love to build a well in their community. The representative traveled to see the well and meet with members in the community. From then on, the ball was rolling for Hill Top Crafts. "While we were there, I watched the Father at work," she says. "The Father is wonderful, and He connected us. I like to use the term knit to describe the joining of us two.
She says it's apparent that the women creating these purses now see "the Father is at the center of their story." The artisans now have dreams for Hill Top Crafts—they even want to begin sewing pads for women in the community. "This is their own journey," she says. "They can see their work as more than just producing a product to sell—the products are making a difference."
The story of Hill Top Crafts is "the Father's story," she says. "He connected Compassion Ministries, Hill Top Crafts, Pure Water, Pure Love, and WorldCrafts. The Father has 'knit' us together. We love together." She continues, "We see how the Father has been glorified in all that has been done and will be done."
Midnight Bloom Purse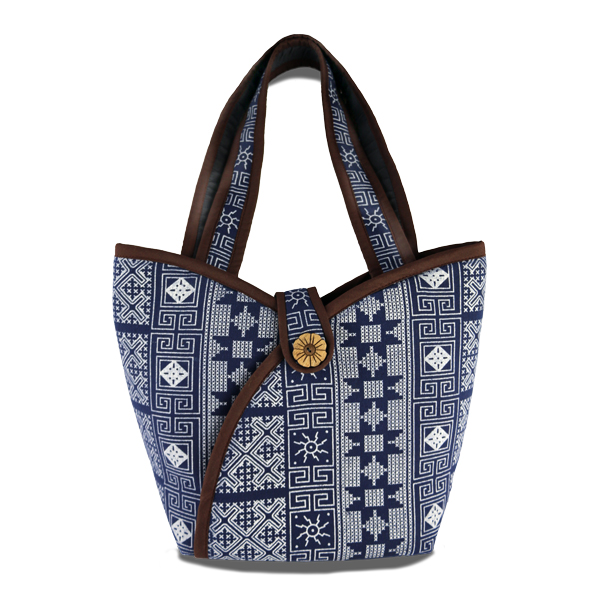 These new artisans are making the new Midnight Bloom Purse, which features a unique design on blue fabric with brown and black accents.
Your commitment to purchasing fair trade enables WorldCrafts to add new artisan groups like Hill Top Crafts. We are grateful for your partnership in bringing hope to our artisans throughout the world.