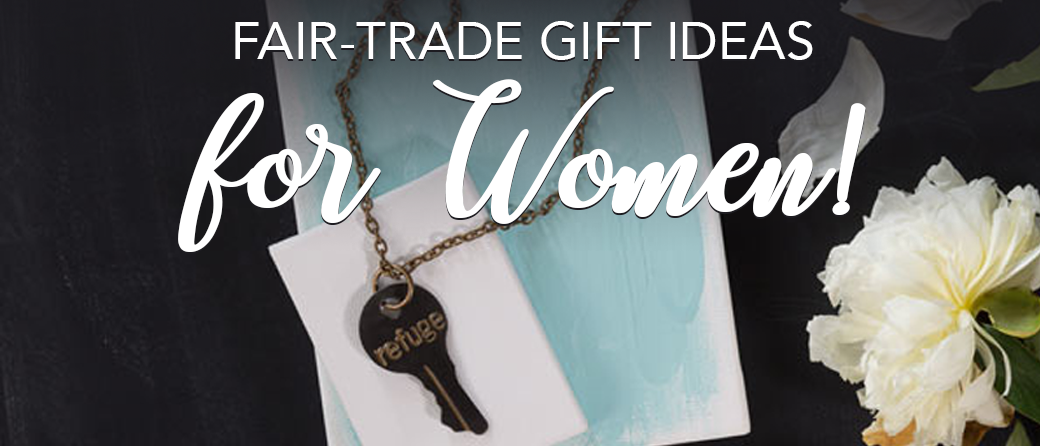 Christmas is on the way – what are you giving the special women in your life?
When you give the gift of WorldCrafts, you not only bless your favorite women, but you also gift  the promise of hope for life and a future to artisans throughout the world.
Here are a few fair-trade gift ideas for women to get you started!
New Releases from WorldCrafts
All Day Crossbody Purse
With the fashionable and functional All Day Crossbody Purse, any woman can take on her day with ease! Crafted by the artisans at Thai Country Trim, which offers a safe haven for battered women to find emotional and financial support.
This purse coordinates beautifully with the Thai Elephant Wallet, Thai Elephant ID Case, and Thai Elephant Luggage Tag which are our WorldCrafts giveaways for October. All you have to do is shop WorldCrafts products during the month of October to be entered in our drawing. Three winners will be notified on November 1!
Refuge Necklace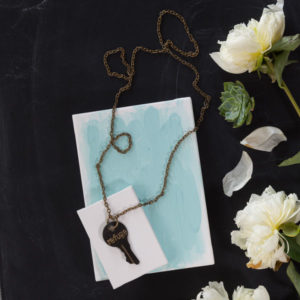 The Refuge Necklace serves as a great reminder of the refuge we have in Christ. This necklace is created by former sex trafficking victims who've found new lives at Sak Saum in Cambodia.
Hellen Necklace
At 90 inches long, the Hellen Necklace can be worn in a variety of ways. These necklaces are made of multi-sized black paper beads handcrafted by the artisans of Proverbs 31 Women, most of whom are widowed and HIV-positive. The artisans' earnings empower them to meet their families' most basic needs, such as food and rent.
Collections
Change the World Necklace and Across the Globe Earrings
The Change the World Necklace is a stylish reminder to pray for those trapped in trafficking around the world. The necklace and Across the Globe Earrings coordinate beautifully. Both pieces are handcrafted by the artisans of Eden Ministries in Asia which seeks to restore freedom for the captives of Asia's red-light districts.
Jubilee Jewelry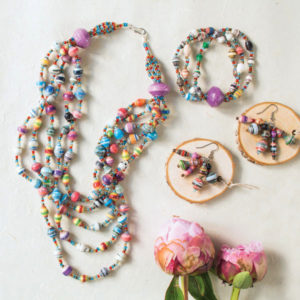 The Jubilee Necklace, Jubilee Bracelet, and Jubilee Earrings are all fun, colorful pieces that will bring joy every time they are worn! Made of multi-sized and multi-colored beads by the artisans of Proverbs 31 Women in Uganda.
Speak Up Collection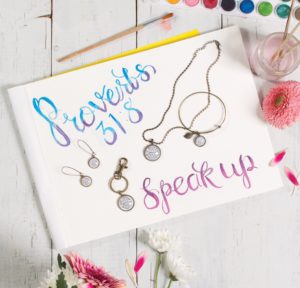 The Speak Up Necklace, Speak Up Bracelet, Speak Up Earrings, and Speak Up Keychain all feature Proverbs 31:8-9 handwritten in cursive. The pieces provide a way to share with others the importance of speaking up for those who cannot speak for themselves. Hand crafted by the artisans of Eden Ministries in Asia.
Customer Favorites
From Yatta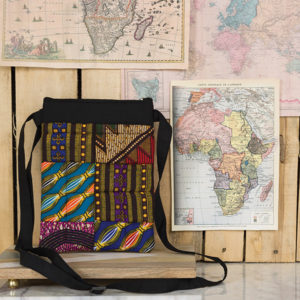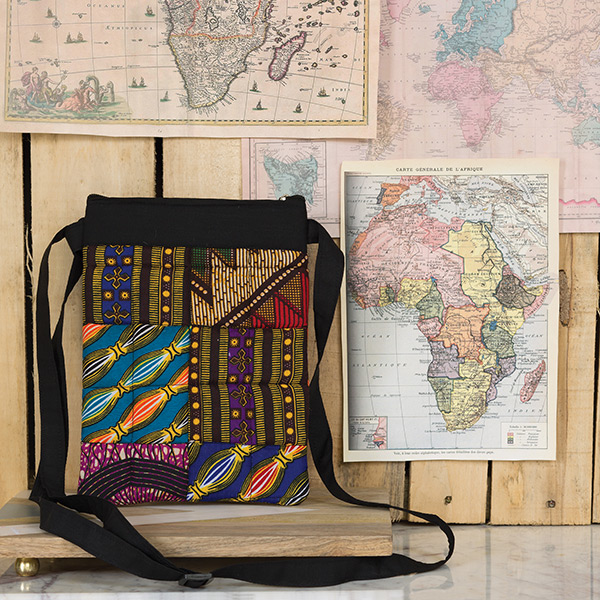 The Yatta Purse quilted from beautiful African fabric is sure to match any outfit. The purchase of this purse and the Yatta Necklace below assists in the recovery and restoration of victims of human exploitation who are now employed as artisans at the Yatta Vocational Training Centre operated by Mully Children's Family in Kenya.
The Yatta Necklace is handcrafted with seed beads, wooden beads and a cow horn pendant. It provides a beautiful ethnic flair to every outfit.
Indian Mosaic Frames
Made from recycled multicolored pieces of smooth broken glass, the Indian Mosaic frames come in two sizes. The Large frame measures 8-by-0.5-by-10 and fits a 5-by-7 photo. The Small frame measures 7-by-0.5-by-9 and fits a 4-by-6 photo. Both frames are made by the artisans of Rahab's Rope who are healing physically, spiritually, and emotionally after being rescued out of sex trafficking.
Himalayan Tote
The Himalayan Tote provides the perfect way to carry every necessity in style. These bags are hand screen printed by women employed by Himalayan Tapestry who are breaking free from abuse, illiteracy, and cultural discrimination.
No matter who you are shopping for — your wife, your mother, your sister, your daughter, or even your best friend — you will find something perfect for her with WorldCrafts!