WorldCrafts artisan group ConneXions employs underprivileged women from the slums of Calcutta, India.
ConneXions has trained the artisans how to make products out of their traditional saris using the kantha, a traditional Indian embroidery technique.
The Impact of Your Purchase
The women artisans of ConneXions work primarily from their homes while looking after their children and doing housework.
Bina, who makes the Freedom Throws, works to support her family and her children's education.
Another artisan, Sumita, has a son who is a bright student. He had always dreamed of pursuing higher education but was unable to attend because of their financial situation. Now, through her work at ConneXions, Sumita is joyfully able to support his higher education.
WorldCrafts orders provide hope with sustainable earnings for the women artisans.
Products Handmade by ConneXions Artisans
Snuggle up in style. The pick-stitched quilting, soft recycled cotton sari fabric, and warm colors of the Freedom Throw add a classic touch to a bed or favorite comfy chair.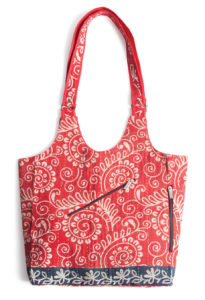 Fashionable pick-stitch quilting gives the Indian Sari Purse texture and classic style. Made of recycled cotton sari fabric in eye-catching colors, it includes 2 zippered pockets on front, button snap, and an interior zippered pocket.
Set the stage for a great party by decorating with this unique Sari Pennant Banner created from beautiful Indian cotton saris.
Thank you for joining with us to support these artisans, their families, and their communities.