October is Fair Trade Month. Here are some ways you can celebrate with us!
Pray
The Word tells us that the prayers of the righteous are powerful and effective. Prayer is the first and best work in celebrating Fair Trade Month. We've created a new way you can pray for WorldCrafts artisans. Download our monthly interactive prayer calendars, and pray daily for our artisan groups. You can learn more about each artisan by clicking on their name in the calendar.
Shop
When you shop fair trade with WorldCrafts, you join us to fight poverty and injustice around the world. Your purchase represents life and hope for the future. You enable WorldCrafts to ensure that our partnerships are sustainable.
Explore WorldCrafts.org
Do you know the story of WorldCrafts? Do you understand how fair trade works? Explore WorldCrafts.org to learn about all of our artisans, their cultures, and the reasons that fair trade brings restoration and transformation to the world.
Our Proverbs 31 Women artisans testify to the impact of our fair-trade partnership in Uganda: "The changes are multiple: families have more to eat, children attend school who could not before, more serious illnesses requiring hospitalization are more affordable, new businesses have been started, brick houses with metal roofs have been built, the general economy of the community has increased, women have become respected as capable, talented, and valid breadwinners, and clean water is more available in the community."
"
Give the Gift of WorldCrafts
When you gift a WorldCrafts product, you are not only caring for a loved one. You are also caring for global artisans, their families, and their communities. Many of our artisans rely solely on WorldCrafts for their livelihood. To thank you for your purchase, we've created free gift cards you can download and use with your gifts.
Teach Others
After you've learned about WorldCrafts yourself, download our free teaching resources. Through these simple 30-minute lessons plans, you can teach
Host a Benefit
Through the WorldCrafts benefit initiative, you can host a monthlong online benefit for Baptist Children's Homes & Family Services, Christian Job Corps, Lifeline Children's Services, and families adopting through Lifeline. At the end of each month, 20% of your proceeds are sent directly to your chosen beneficiary. In addition to helping your beneficiary, you also provide needed work to women like J of Sak Saum:
Plan a WorldCrafts Display or Market
Share the fair trade ministry of WorldCrafts with others! Set up a WorldCrafts display or create a WorldCrafts market. Help your faith fellowship and community meet our artisans and see the quality and craftsmanship of their products. Visit WorldCrafts.org/Display or WorldCrafts.org/Market to learn more.
Order Custom Products
Are you planning an event? Or do you want to purchase gifts for your co-workers or teams?
You can order custom screen-printed tote bags from our artisan group, Begin Anew Refugee Artisan Group.
CWJC of Monroe, LA, offers many custom items such as messenger bags, business card holders, luggage tags, coasters, lapel pins, and more!
Your orders bring hope to these artisans.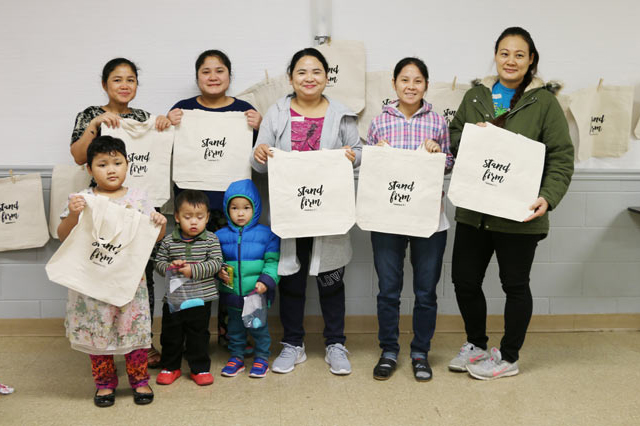 Watch the Mully movie!
Your perspective on life will be transformed after watching the story of Charles Mully, a Kenyan who worked his way from abject poverty to great wealth, only to be called by God to return to poverty. Charles Mully's yes to God has led him to rescue more than 12,000 orphans in Kenya. WorldCrafts partners with Mully Children's Family to offer products made by artisans employed at their Yatta Vocational Training Centre in Yatta, Kenya.
You can now watch Mully for free online.
Follow WorldCrafts
Join us on Facebook, Instagram, and Twitter.  Keep up to date on all things WorldCrafts, including new products!
Donate to the Isaiah 58:10 Campaign
Give to the Isaiah 58:10 Campaign and you help provide immediate funding WorldCrafts can use to pay our artisans a living wage and to bring their products into the United States for sale. This campaign is held by the WMU Foundation, and we are so grateful for their support of fair trade.
Have you ever wondered if fair trade really makes a difference? Wonder no more!
Now, go out and celebrate!